Michelle Bawden Graduating Recital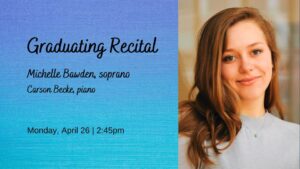 Many people will know Michelle from her time spent in the choir of MacNab before she went to study at the University of Ottawa. Michelle was a choral scholar at MacNab in 2016/2017.
Please join Michelle, accompanied by Carson Becke (piano) in her very first undergraduate recital! Unfortunately, the recital cannot happen in person and will be taking place virtually.
Michelle is very excited to continue her studies with Opera NUOVA and postgraduate work.
****************************************************
Please Pray For:
-Don & Carole MacVicar's Inner-City Outreach Ministry
– All who are grieving, facing health uncertainties, lonely or jobless